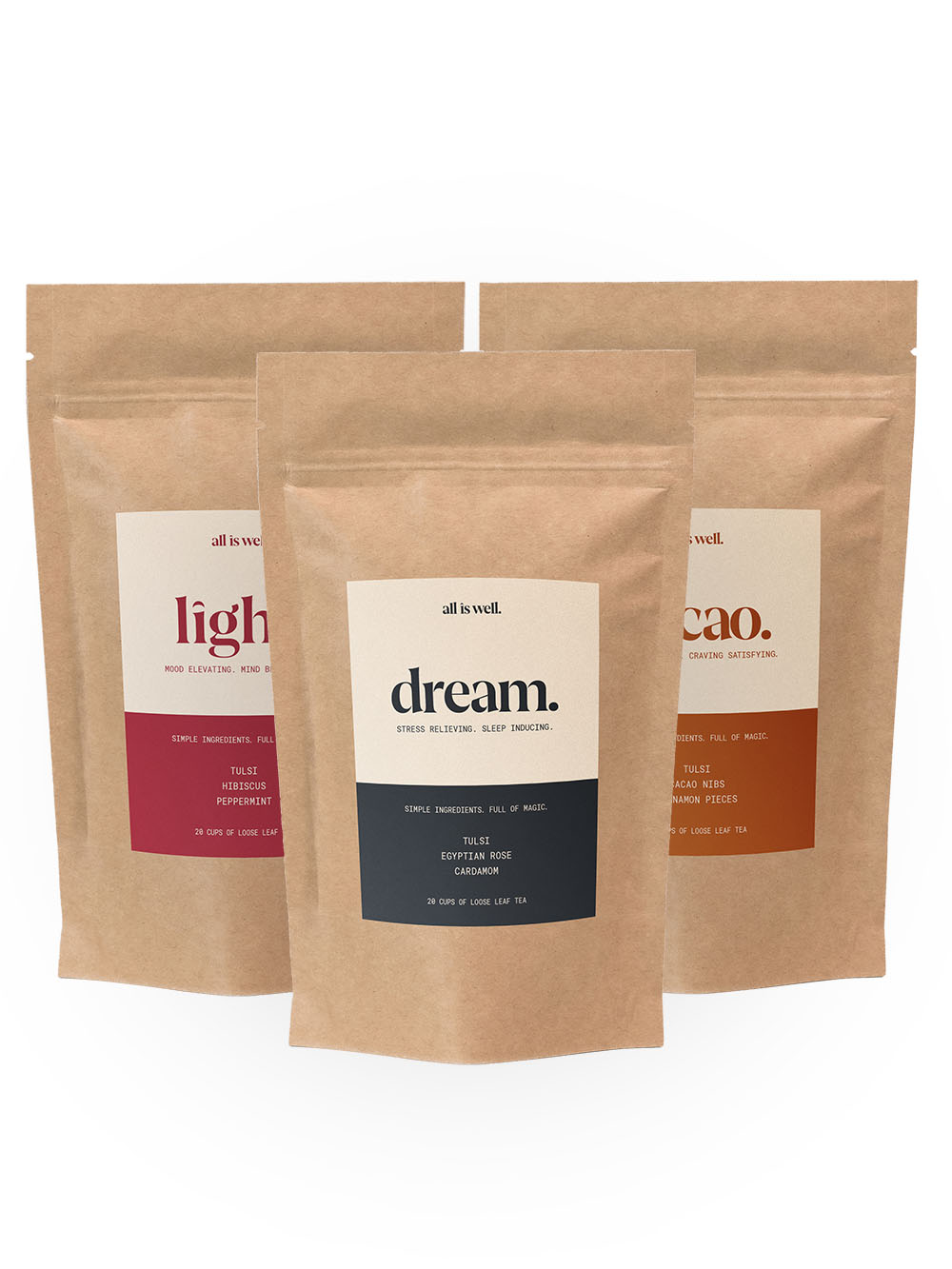 all is well. hand crafted herbal tea blend bundle
Description
All 3 of our tea blends: 
dream. is a handcrafted herbal tea blend with organic tulsi, paired with the queen of flowers, rose, and the queen of spices, cardamom. Harmonizing together + balancing each other's heating and cooling nature - a little sassy-ness of tulsi's peppery-ness, combined with rose's aromatic fragrance, and cardamom's sweetness. 20 cups.
light. All the calming and stress relieving benefits of organic tulsi, perfectly balanced with the natural sweetness and tartness of hibiscus, finishing with the refreshing and invigorating flavor of peppermint. 20 cups.

cacao. Inspired by cozy nights, and lux blankets. With all calming and stress relieving benefits of organic tulsi, perfectly balanced with the chocolatey and natural sweetness of cacao nibs, and the comfort and warmth of cinnamon. 20 cups.
ingredients
dream. Organic Tulsi, Egyptian Rose, Cardamom
light. Organic Tulsi, Hibiscus, Peppermint
cacao. Organic Tulsi, Cacao Nibs, Cinnamon Pieces
suggested use
dream. 1 tbsp of tea blend per cup. Steep 8-10 minutes.
light. 1 tbsp of tea blend per cup. Steep 4-8 minutes.
cacao. 1 tbsp of tea blend per cup. Steep 10-12 minutes.
all is well. hand crafted herbal tea blend bundle
FAQ
What forms of payment do you accept?
We accept all major credit cards.
When will my account be billed?
Your account is billed when your order is placed, unless otherwise noted. 
I emailed customer service and haven't heard back.
Our business hours are Monday- Friday. We aim to respond to all inquiries within forty eight hours, so hold tight- we'll get back to you as soon as we can. 
Shipping
shipping to canada
Expedited shipping to Canada (one to three business days in transit) on all orders less than $100 before taxes and shipping is $20 CAD and free for all orders above $100. Please note that order processing may take up to two business days after the order is placed.
Order tracking
You will receive an email with shipping confirmation + tracking number once your order has shipped.
returns + exchanges
What is your return policy?
Refunds on items eligible for returns are accepted within 40 days of receipt. Items must be returned unopened/unused, with tags, in their original packaging. Any items that are damaged when we receive them are not eligible for a refund. If a returned item is open or used, any refund shall be at all is well.'s discretion according to all is well.'s terms for the refund (which may include setting up an all is well.'s account for a store credit refund). The nature of certain items calls for more specific eligibility and instructions. Before initiating a return, please use the guidelines below to make sure your item is eligible.
Beauty + Lifestyle
To be eligible for a refund, skin care, hair care, fragrance, and cosmetic products must be unused, unopened, and in their original packaging. Opened or used beauty products are eligible for store credit refunds only. If you have questions about returning a beauty product, please reach out to care@helloalliswell.com
what is your exchange policy?
We do not accept exchanges. If your purchase falls within the return policy outlined above, we encourage you to purchase the item you need and return the unwanted item for a refund. If you are buying a different size of the same item,email care@helloalliswell.comto have your return label fee waived.
late returns
Any item returned more than thirty days after receipt is not eligible for refund.
i received a damaged product, how do i proceed?
If there is an issue with an item, please let our Customer Experience team know by sending an email to care@helloalliswell.com as soon as possible. We will resolve any problems as quickly as we can. Please include as many details as possible.
do i pay for returns?
Return shipping fees are $10 CAD, which will be deducted from your refund.